If you are like myself, and prefer clean, stylish simple design at home, then maybe you would be interested in something for your DJ-gear. Something that fits with the rest of the furniture. You should take a look at Hoerboard and Dual structure and style.
Hoerboard
The German Hoerboard "…reflect creative German spirit with clean and elegant designs. Our intense search for simplicity and the removal of everything unessential has resulted in the creation of functional and visually pleasant products: Simpleness is beauty." Again, beautiful tables that can be fitted almost any DJ-setup. My favourite is the "Spin Age" table as you see here on the side.
Dual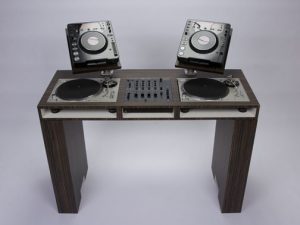 Dual is located in San Fransisco, and they write the following their webpage: "Dual was founded by DJs and it's products have always been designed with the DJ in mind. All Dual products are designed by our own design team who work with DJs and producers to make sure every product meets the needs of the people they are designed for."
They have great option extras to customise the table to your needs. I particularly like the "Miami"-version table and the Portland record shelf. You see the Miami Table on the picture.