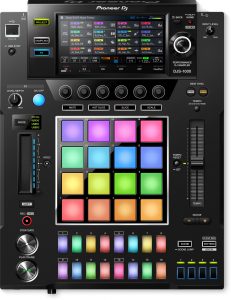 So, the day before this years episode of Amsterdam Dance Event, Pioneer DJ made official their new toy, the DJS-1000. It is a DJ-set adapted version of the Toraiz SP-16 I would say. It is in the format of a CDJ so it fits into the setup, but still its features are somewhat different to the SP-16 in e.g. the Dave Smith filters are not included in this player. The DJS-1000 and the SP-16 will, however, be able to co-exist in your setup as the unit accepts SP-16 project files, which is great.
To read more about it, head over to the pioneer webpage.
If you are in Amsterdam at this now, I strongly suggest you head over to the Pioneer DJ showcase at De Backe Grund and caress this baby. I did that the other day, and It feels very fresh and nice. A unit that might fit very good into my own setup.